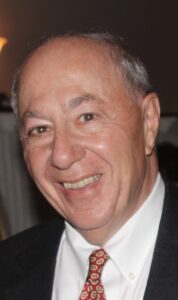 Van J. Filipos, 83, of Bethlehem passed away on November 5, 2023. Born March 18, 1940, to the late John and Mary (Bournias) Filipos, Van attended Liberty High School and Lehigh University and remained an involved alumnus at both institutions. He began his accounting career with an adding machine and assistant, and eventually formed a long-standing partnership that became Filipos, McDonald, Abbott & Co, now a part of Buckno Lisicky & Company where Van continued to work until his untimely passing.
Van was very community minded and was active in a number of different organizations including the Order of Ahepa, of which he was past president, the Lehigh Valley Chapter of the PICPA, of which he was also a past president, and many professional associations.
A gifted athlete, Van also enjoyed following sports, including Philadelphia professional teams, local sports, and Lehigh athletics, especially wrestling. Van was particularly fond of tracking the athletic pursuits of his grandchildren Ellie, Alexander, and Van.
Van will long be remembered for his sense of humor, his acts of kindness, and his generosity. He will be missed by his colleagues, his friends, and especially his family – at his regular card game, at summer gatherings on Peaks Island, and throughout Bethlehem.
Survivors:  John V. Filipos of Bethlehem, Melisa A. Filipos (Eric Elofson) and Ann V. Filipos (Robert Mainville) of Cape Elizabeth, Maine. Predeceased by his wife of forty years Joanne (Alshon), and his brothers Constantine and Michael Filipos.
Service:  Saturday, November 11, 2023, visitation 10AM to 11AM followed by the Funeral Service at 11AM all at St. Nicholas Greek Orthodox Cathedral,1607 West Union Blvd., Bethlehem, PA 18018. Burial to follow in Cedar Hill Memorial Park Cemetery in Allentown. Funeral arrangements by the John F. Herron Funeral Home in Bethlehem. www.Herronfuneralhomes.com
Contributions: In lieu of flowers, contributions in Van's memory can be made to  LPL Financial  (for the Michael J. Conelias AHEPA Scholarship Fund) and mailed to the Herron Funeral Home, 458 Center Street, Bethlehem, PA 18018.