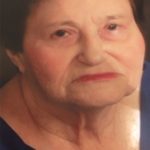 Rosa Albino, 85 of Allentown died on November 7, 2019 at home surrounded by her family. Rosa was the wife of the late Rafael Albino.
Rosa was born in Corozal, Puerto Rico on May 26, 1934, daughter of the late Salvador and Isabel (Mercado) Rodriguez.
Rosa was a member of Sacred Heart of Jesus Catholic Church in Allentown.
Survivors: Sons Albert (who survived his Mother by one day and passed on November 8, 2019) and his wife Nelida of Allentown, Gregory Albino and his wife Irma of Palm Bay, Florida and Rafael Albino, Jr. of Bethlehem; daughters Luz Berrios of Allentown, Adnery de La Rosa and husband Jose of Northampton, Rosemary Velazquez and husband Jose of Allentown; sister Cristina; 15 grandchildren, 10 great-grandchildren and 2 great-great grandchildren. Predeceased by a granddaughter Victoria, great grandson Jordan, siblings Luis, Ramon, Merced, Jova, Juana, Hilda, Paca and Carmin.
Service: Mass of Christian Burial on Thursday November 14, 219 at 10 AM in Sacred Heart of Jesus RCC 336 N. 4th Street, Allentown. Viewing on Wednesday from 6PM to 8PM and on Thursday from 8:30AM to 9:15 AM in the Sell-Herron Funeral Home 1145 Lehigh Street Allentown. Burial in Resurrection Cemetery in Allentown. www.HerronFuneralHomes.com
Contributions: To Sacred Heart of Jesus RCC in Allentown.