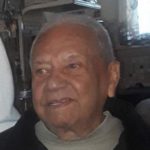 Jose Antonio Vega, 82, of Bethlehem, died on November 4, 2019 at home.
Jose was born in Toa Alta, Puerto Rico on May 21, 1937 son of the late Jose Vega, Sr. and Julia Cosme.
He served in the US Army in Korea.
Survivors: Sons Jose Antonio Vega, Jr. and his wife Maria,Luis Enrique Vega and Pedro Juan Vega; daughters Carmen Esperanza Vega, Gloria Carmen Vega, Lourdes Vega and Angie Vega; brothers Gilberto Rodriguez and Jose D. Rodriguez; many grandchildren and many great grandchildren. Predeceased by son Jose Manuel Vega.
Service: Viewing from 6-8PM on Friday, November 8th at the John F. Herron Funeral Home, 458 Center Street, Bethlehem. www.Herronfuneralhomes.com.
Contributions: To the family c/o the Funeral Home.