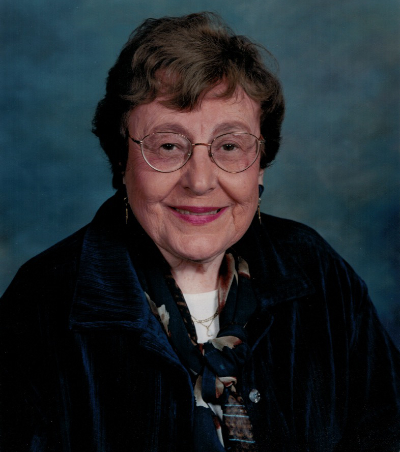 Ruth B. Pope of Bethlehem, residing at Devon House in Allentown, passed away of natural causes with her loving children by her side on December 21, 2021 at Lehigh Valley Hospital in Allentown. Born in Kingston, NY on May 14, 1929 she was the daughter of William and Aurelia Buddenhagen and grew up in the small town of Port Ewen, NY outside of Kinston on the Hudson River.
As a young person she enjoyed school and many activities including girl scouts and church.  A favorite playmate was her grandmother.  In high school she was an accomplished pianist and vocalist, well known throughout the area although as an adult she said she preferred singing to the piano.  Following High School, she attended Concordia and Cornell Schools of Nursing but left to marry Jack Pope, also of Kingston, NY.  They moved to Bethlehem, PA where they raised 3 children which she said was one of the most satisfying times of her life.
In her late 30's she enrolled in Moravian College completing her undergraduate degree and then went on to obtain a Master's degree in counseling psychology from Kutztown University.  She was a caseworker and Director of LARC before moving to Family Life Services at the Lutheran Home in Topton, PA specializing  in counseling and support for pastors and ministry associates until she retired.
Ruth was a member of the Pennsylvania Counseling Association, the National Certified Counseling Association, the Bethlehem chapter of the Jaycees, Salem Lutheran Church and the Star of Bethlehem Lutheran Church. Her strong and deep Lutheran faith provided her with great comfort and contentment throughout her life.
She cherished her many lifelong friendships that she considered family and she treasured her relationships with her children and their families.
She was an avid reader and enjoyed theater, music, gardening, crossword puzzles and arts and crafts.
Ruth firmly believed that life is as good as you choose to make it and she worked hard in her own life to make it loving, happy and meaningful.  She was a great listener and rarely judgmental. She believed in forgiveness.
Ruth is survived by her children- Randall Pope and his wife Deborah of Doylestown, PA, Judith Numon of Easton, PA and Douglas Pope of Lake Oswego, Oregon as well as 6 grandchildren and 6 great-grandchildren.
A memorial Service will  be held in Spring of 2022 on a date to be advised with private interment at Montrpose Cemetery in Kingston, NY.  Funeral arrangements are by the Herron Funeral Home in Bethlehem, PA www.Herronfuneralhomes.com