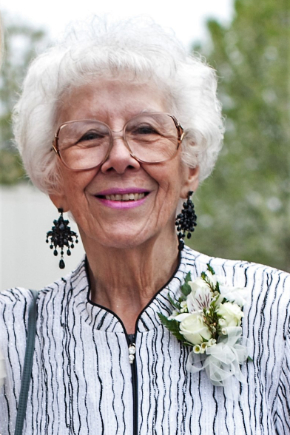 Ruth M. D'Annibale, 88 of Allentown died on March 9, 2018 at the home of her daughter Nancy.  Ruth was the wife of the late Mario J. D'Annibale.
Ruth was born in Allentown on March 29, 1929, daughter of the late Herbert R. and Theresa H. (Beischl) Boger.
She attended Allentown High School, Cedar Crest College and Muhlenberg College.
Her 76 year career focused on Customer Service with employment at Western Electric, General Electric, Hess Brothers, Charles L. Bell, K-Mart, Hubbell, Inc., Piercing Pagoda, Lutron, Sunrise and most recently until 2016 at Above and Beyond.
Ruth was passionate about fashion and style. Ruth shined on the dance floor with her contagious smile and was hooked on swing. Her interior design skills were impeccable.
Survivors:  Daughter Nancy D'Annibale West of Allentown, son Michael H. D'Annibale of Bethlehem, daughter in law Priscilla D'Annibale of Cocoa Beach, FL; seven grandchildren Joseph M. D'Annibale husband of Christine, Lauren Hulings wife of James, Nicole Hartman wife of William, Phillip D'Annibale, Rowan D'Annibale wife of Michael Welsh, Devan West and Erin West; seven great-grandchildren JonAnthony and Michael D'Annibale, Zoe, Zander and Zalen Hulings, Logan and Ridley Hartman; brothers Herbert Boger, husband of Connie of Allentown  and Frederick Boger husband of Carol of Fountain Hill, brother in law Jon A. Rolfsen of Cocoa Beach, FL.   Predeceased by a son Joseph P. D'Annibale, sister Geraldine Rolfsen and daughter in law Vicki L. Wald.
Service:  There will be a viewing on Thursday March 15th from 7PM to 9PM and Friday March 16th from 10AM to 11AM followed by the Funeral Service at 11 AM in the John F. Herron Funeral Home 458 Center AT Market Streets in Bethlehem.  Burial in Grandview Cemetery in Allentown.
Contributions:  Dress for Success Allentown, 108 N. 5th Street,  Allentown, PA  18102.