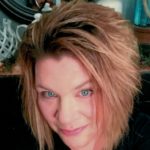 Jennifer L. Bodner, 46 of Allentown died on March 12, 2018 at home surrounded by her loving family, after a courageous battle with cervical cancer. Husband of Richard M. Bodner, Jr., they were married 25 years on February 5th.
Jennifer was born in Allentown daughter of the late Harold and Carol (Morris) Ehret.
She graduated from William Allen High School in 1989.
She was an allergy technician at Allentown Ear Nose & Throat for 5 years and for 18 years she was at Allen Ear Nose and Throat.
Jennifer was a member of Grace Lutheran Church in Allentown.
Jennifer will be remembers as a wonderful wife, mother, sister, aunt and friend. Her laughter, will be remembered by all those who knew her.
Survivors: Husband Richard, sons Nicholas and Jonathan, daughter Jillian all at home; brother Ernest Ehret of Allentown.
Services: Memorial Service will be on Friday March 16, 2018 at 11 AM, with a calling from 9:30AM to 11 AM in Grace Lutheran Church 729 Saint John Street, Allentown. Funeral arrangements are by the Sell-Herron Funeral Home in Allentown.
Contributions: To the Church OR St. Luke's Hospice.