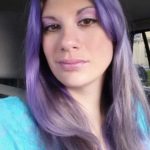 Samantha L. Thalassinos, 32 died on Sunday March 18, 2018 at her father Ricky Sechler's home in Allentown. The wife of Stavros J. Thalassinos, they would have been married 9 years on June 28th.
Samantha was born in Allentown on September 18, 1985 daughter of Ricky Sechler and Madeline (Lucas) Hallman.
She was a customer service representative at T-Mobile. She also enjoyed being a wedding planner.
Survivors: Husband Stavros, children Stavros Giovanni and Arabella Aubree Lynn, her parents Ricky and Madeline, sisters Katherine Zaffarano and Angel Ward, brother Andrew Kennedy.
Service: Prayer Service on Friday March 23, 2018, call 6pm to 8PM, John F. Heron Funeral Home 458 Center At Market Streets, Bethlehem.
Contributions: To the family care of the Funeral Home.