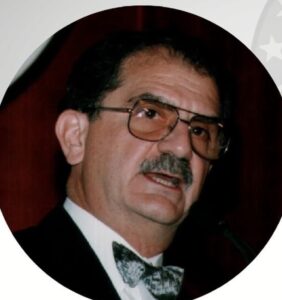 Stephen Arthur Manta, beloved father, grandfather, uncle, and friend, passed away on his 83rd birthday, January 4, 2023, in Bethlehem, PA. Born in Chicago, IL on January 4, 1940, he was the son of John L. and Barbara (Petrakis) Manta.
Steve attended St. John's Northwestern Military Academy, Northwestern University, and served in the US Naval Reserves. Along with his brothers Leo and Frank, he co-owned JL Manta Inc, an industrial painting contractor company.
Steve was a member and steward of Saints Constantine and Helen Greek Orthodox Church in Palos Hills, IL, where his grandfather, Fr. Mark Petrakis, served as the parish priest for many years. He was an Archon of the Ecumenical Patriarchate, an honor given to him by His Holiness the Patriarch for exceptional service to the church. In addition, Steve was a Past Supreme President of the Order of AHEPA, a Greek-American association established to assist Greek immigrants in America. He was a life member of the Milo Chapter.
Steve had a love for movies and was a walking encyclopedia of film knowledge. He enjoyed theater, reading, politics, bowling, stamp collecting, and fishing in Alaska and Wisconsin with his family. He was overjoyed to see his beloved Chicago Cubs finally win the World Series, a moment he had waited for his entire life. He loved playing basketball and spent many happy hours playing with friends and family, not dribbling to his left. Steve will be deeply missed by all who knew him.
Steve is survived by his children Melissa Manta-Zannakis and her husband John of Center Valley, PA, and Peter Manta and his wife Antoinette Zabala-Manta of San Jose, CA. He is also survived by his former wife Dena P. (Booras) Manta of Bettendorf, IA, and his six loving grandchildren: Dean, Andrew, and Maya Zannakis, and Duke, Isabel and Simone Manta. Stephen was predeceased by his brothers Leo and Frank Manta.
A viewing will be held on Thursday, January 12, 2023 from 3 PM to 7 PM, with an AHEPA service at 7 PM, at Robert J. Sheehy & Sons Funeral Home (9000 W 151st Street, Orland Park, IL 60462). The funeral will take place on Friday, January 13, 2023, 10:30AM at Saints Constantine and Helen Greek Orthodox Church (11025 South Roberts Road, Palos Hills, IL 60465), followed by burial at Evergreen Cemetery in Evergreen Park, IL. www.Herronfuneralhomes.com
Throughout his life, Steve contributed time, energy, and resources to the Blair Early Childhood Center in Chicago. In lieu of flowers, the family requests that donations be made to either Saints Constantine & Helen Greek Orthodox Church or the Blair Early Childhood Center (https://blair.cps.edu/).