Valerie Celeste Mann Watts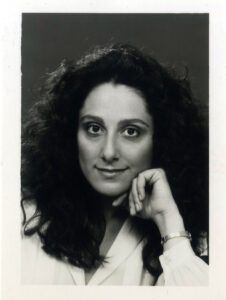 Valerie Mann Watts, 70, passed away peacefully in her home on May 31st after a long and unfair illness. She never gave in, and took care of her family, as always, for as long as she was able.
She was born to Fredrick and Santa Mann (Paterno) on July 29th 1951 in Jacksonville, Florida and spent a year in Morocco as a child where her father was stationed during the Korean War.
After graduating high school Valerie completed her Bachelors degree at Florida State University, and also studied abroad on the Florence Study Program. She then moved to New York City to attend Columbia University where she earned her Master's in Communications and Film Studies. During her many years in New York she worked, contributed to a manuscript with Marshall McLuhan and her major professor Lou Forsdale, and was accepted into the Lee Strasburg Institute where she studied acting with stage legend Kim Stanley. Valerie taught acting in Brooklyn while continuing to study at the Ensemble Studio Theatre in Manhattan. She later returned to school at the University of Pittsburg to earn a second Masters in Library Science and was pleased to work for many years at the Bethlehem Area Public Library as a reference librarian and directing the Inter Library Loan program.
In 1979 Valerie inexplicably married Eric Watts, a young man with little to recommend him beyond his adoration. Together, they had two cherished daughters; Hannah Clare and Sophie Rose, the loves of their lives.
Valerie made beautiful homes for her family in New York City, Kunkletown Pa., where she founded The Faulty Beagle art gallery, and Bethlehem Pa.
She adored food (full stop). She also loved travel, here and abroad, reading, crossword puzzles, movies, T.V. procedurals, and her many dear and long time friends. She was a wonderful writer and a better than decent painter. There was always a dog or two at home – much loved.
Valerie is survived by her husband Eric, to whom she often said; "I love you, but you already told me that.", her beautiful daughter Sophie and her husband Bobby and their soon to arrive son Huey, her brothers Bob, musician and all around good guy, and Doug, her mother-in-law Senga, brother-in-law Robbie and his wife Tina, brother-in-law Jamie and his wife Debbie, cousins, nieces, nephews and dear friends.
With any luck, we will all see you late or soon.
There will be a private service on June 18th at the Herron Funeral Home followed by a luncheon at Tre Scalini Restaurant.
In lieu of flowers please make a donation to the Bethlehem Area Public Library in Valerie's name if you wish.