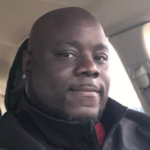 William Lee Bell, 45, of Macungie died on June 19, 2019 at St. Luke's Hospital in Allentown.
Born in Brooklyn, NY on February 16, 1974, he was the son of Thelma (Bethel) Bell and the late Mack Bell, Sr.
William worked as a chef and assistant kitchen manager at Outback Steakhouse, Olive Garden, Red Lobster and Friendly's. He was also a freelance ride share driver with Uber and Lyft.
Survivors: Mother, Thelma Bell; children Tyreek W. Bell and Tynae C. Bell and their mother Marilyn Hawkins and Tyson A. Bell and Tylee C. Bell and their mother Natisha Reed; twin brother Mack Bell Jr., and wife Novlette, André Bell, and wife Katharine, and Michael Spear; sister Tina Bell; a host of nieces and nephews, aunts, uncles and cousins.
Service: Viewing on Wednesday, June 26th from 5-7PM with at service at 7PM in the Sell-Herron Funeral Home, 1145 Lehigh Street, Allentown, PA 18103. www.herronfuneralhomes.com