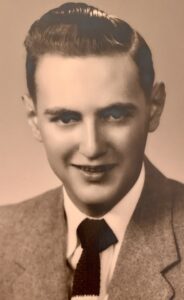 William N. Haros Sr., 84 of Delray Beach, FL, formerly of Bethlehem, PA, passed away on May 9, 2022, surrounded by his loving family.  He spent his life devoted to family and church.
He was the husband of Joann Haros and would have been married 58 years on August 29th.
Bill was born in Butler PA, on December 14, 1937, after his parents (the late Nicholas and Angeliki Haros) immigrated to the United States from Kythera, Greece.
He graduated from Liberty High School and attended Moravian College.  He then worked as a Lab Technician for Bethlehem Steel for many years.
He was a member of St. Nicholas Greek Orthodox Cathedral in Bethlehem, where he served on church council for over a decade and also was President and Treasurer. After retiring to Florida, he became a member of St. Mark Greek Orthodox Church in Boca Raton.
Bill was a life member of The Order of AHEPA Chapter 65 and a former President.
He was completely unpretentious and had a great sense of humor.  While his primary joy in life was spending time with his family, his passions also included watching sports, taking trips to the casino, playing pinball, collecting coins and attending community events.  He particularly loved baseball and was a lifelong Red Sox fan.
Left to cherish his memory are his wife Joann, sons Nicholas (husband of Bernadette) and William Jr., brother Nicholas (husband of Pamela), sister Helen and grandchildren Morgan, Janine and Nicholas.
A viewing will be held on Sunday May 15th from 6-8 PM, with Trisagion service at 7 PM followed by AHEPA service in the Herron Funeral Home, 458 Center at Market Streets in Bethlehem.
The funeral service will be held on Monday May 16th, 11 AM at St. Nicholas Greek Orthodox Cathedral, Bethlehem. Burial to follow in Cedar Hill Cemetery. Funeral arrangements by www.Herronfuneralhomes.com
Contributions in his memory may be made to St. Nicholas Greek Orthodox Cathedral, 1607 West Union Blvd. Bethlehem, PA  18018, or St. Mark Greek Orthodox Church 2100 NW 51st St., Boca Raton, FL. 33431.