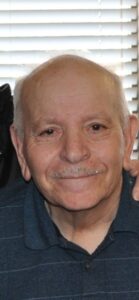 Theophanis Valianatos of Bethlehem, PA passed away on Wednesday, May 11th, 2022, on the island of Kefalonia, Greece.  He was the husband of the late Eftihia Valianatos.  Born in Farsa, Greece, on the island of Kefalonia, he was the son of Gerasimos and Kyriakoula Valianatos.
A master carpenter, "Fanis" worked with his brothers for many years on projects and homes throughout the Lehigh Valley.
In his younger years, he was a merchant marine, and sailed throughout the Mediterranean.  Prior to moving to the United States in 1972, he owned and operated his own Millwork shop in Pireaus, Greece.
"Fanis" enjoyed being around his family and friends, and was a terrific dancer. If you ever had the pleasure of attending an Easter feast at his home, you never left disappointed or hungry.
He is survived by his son Mike and daughter-in-law Marita of Bethesda, MD, and his son Pete and daughter-in-law Michele of Mendham, NJ, four grandchildren:  Sophia, Cristina, Teo and Zoe, and his brothers Menelaos (Kathy) and Anastasios (Mary) of Bethlehem, brother Nicholas of Kephalonia, Greece, and sister Eleftheria of Tasmania, Australia.
Fanis is also survived by godchildren, nieces and nephews.
Services:   On Tuesday May 24, 2022 the Funeral Service will take place at St. Nicholas Greek Orthodox Cathedral 1607 West Union Blvd. Bethlehem, PA  18018, visitation from 10AM to 11AM followed by the Funeral Service at 11AM.  The service will be livestreamed using www.stnicholas.org/valianatos
Burial to follow in Cedar Hill memorial Park Cemetery in Allentown. Funeral arrangements are by the Herron Funeral in Bethlehem. www.Herronfuneralhomes.com
Contributions: In lieu of flowers, donations may be made to the American Cancer Society.