Willis L. "Stan" Wanamaker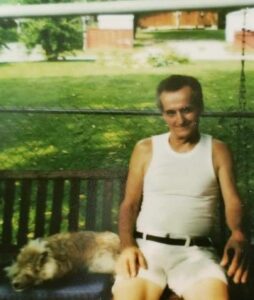 Willis L. "Stan" Wanamaker, 96 of Allentown passed away on September 28, 2023.
Husband of Mae J. (Strohl) Wanamaker.  Stan loved his wife Mae, they would have been married for 50 years in May of 2024.
Willis was born in Allentown son of the late Leroy and Mildred (Hartline) Wanamaker
He served in the US Navy during World War II.
His family and friends adored him and have many fond memories, from teaching his nephew to fish, giving life advice, helping with home improvement projects and bringing a smile wherever he went.  He was grateful for all the support his sister-in -law Bonnie provided over the years.  Family was very important.
Most knew him as Stan or by his true name of Willis and a select few he allowed to call him Dutch.
Every year he looked forward to his family reunion which he never missed and the past several years he was proud to win the title of oldest relative.
Ever the outdoorsman, he enjoyed nature, gardening and caring for his four dogs over the years.  He was a professional drycleaner and could get a stain out of anything.  Stan had a fondness for sweets and didn't miss an episode of Jeopardy or Wheel of Fortune.
Survivors:  Wife Mae, sister Betty, sister-in-law Bonnie, nieces and nephews.
Memorial Service: Tuesday October 3, 2023 at 1PM in the Sell-Herron Funeral Home 1145 Lehigh Street Allentown. Enhanced obituary at  www.Herronfuneralhomes.com