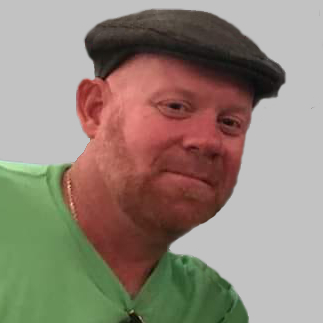 Matthew J. Gettings, 51, lifelong resident of Bethlehem, beloved son, brother, father and friend, passed away on January 27, 2020. Matt ("Matty G") attended St. Anne's Grade School and Freedom High School.
Shortly after graduation, Matt went to Alaska to work on a fishing boat "for the summer." Instead, he developed a love for the Bering Sea and working as a fisherman and continued doing so for over ten years. Matt was an outgoing person and had many friends from school, golf, the Tally Ho, OBT, and Celtic Fest. He enjoyed spending time with his daughter, playing golf, going to concerts, riding his Harley and was an ardent fan of both Notre Dame and Oakland Raiders football. Matt will be missed by many, including his loyal dog, George.
SURVIVORS: He is survived by his daughter, Gabrielle Bausch of Lower Macungie PA, siblings Thomas (Lake Forest IL), Elizabeth (Houston TX), Peter (Chicago IL) and Colleen Gettings (Chicago IL). Matt was preceded in death by his parents, Peter and Patricia Gettings of Bethlehem.
SERVICE: Mass of Christian Burial on Saturday October 23, 2021 at 10:30 at St. Anne's Catholic Church, 450 E. Washington Avenue, Bethlehem. Burial to follow at Holy Saviour Cemetery Bethlehem.
A Celebration of Matt's Life will follow the burial at The Clubhouse Grille 400 Illick's Mill Road Bethlehem, PA 18017.
CONTRIBUTIONS: In lieu of flowers, the family suggests any donation be made to Mureille's Place, a senior dog sanctuary, 533 Creek Road, Wapwallopen, PA 18660.
Below is the Facebook post from Matt's daughter, Gabbi. Gabbi was Matt's pride and joy…and always will be. We know that Matt will always be Gabbi's guardian angel.
Gabbi's FB Post
Gabrielle Bausch is with Matt Gettings.
January 29 at 12:43 AM ·
i love you to the moon and back. thank you for being my best friend and matching my sense of humor with your own. thank you for your endless support and being my rock. sunday night you were just talking about taking me back out onto the basketball court and "showing me who's boss", and now somehow my reality has become one where you aren't around making me laugh when i'm sad. although we weren't always close, you played one of the biggest parts in making me who i am now. thank you for all the breakfasts we had at the hometown diner together, thank you for the piggyback rides and basketball games, thank you for loving me through every argument we had and thank you for just being my dad. i'm sitting here laughing and crying over our argument the other night of how you said don't like sweets while i just remembered how you loved your chocolate starbucks drink with extra whip cream on top and chocolate chips. i wish i could tell you i got you cornered dad, and that i got the one up on you and that i win this argument. i know you're watching over me now, playing basketball and golf with two good knees again and probably doing some kind of fishing. thank you for being such an inspiration to me, and teaching me that you can come back from the brink of anything and that anyone is redeemable. if i had had any idea that sunday would be the last time i hugged you, i would of done so a thousand times harder and theres so many other things i would've said. thank you for taking me on so many adventures, i saw new york for the first time with you, i saw ocean city maryland for the first time with you. i saw evanescence in concert and trans siberian orchestra with you. thank you for constantly showering me in love and sharing your wisdom with me. thank you for fishing with me, even if i caught "seaweed" and you caught a rock. thank you for every adventure and i'll continue to travel and think of you with every new place i see. your laugh was so contagious is hurt sometimes how hard you made me laugh, to the point where you said my laugh sounded like muttley the dog. thank you for being so forgiving, thank you for having a heart of gold and helping others before helping yourself. my heart feels so heavy having to say goodbye to you like this, for even having to say goodbye at all. i will never stop thinking about you and i will always work 10x harder to succeed because i know thats all you wanted for me. thank you for being my best friend. i love you "hamburger." from, "french fry."