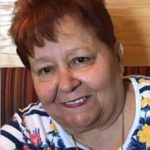 Alicia Soto, 74 of Bethlehem passed away on September 20, 2021 at St. Luke's Hospital in Bethlehem. She was the wife of Francisco L. Alvarado.
Alicia was born in Anasco, Puerto Rico on June 25, 1947 daughter of the late Angel and Graciela (Ramierez) Tubens.
Survivors: Her husband Francisco, four daughters Maritza Bruno, Adriana Bruno, Lorraine Bruno-Mateo and Elba Guzman.; 11 grandchildren and two sisters Irma Matias and Hayde Soto.
Viewing: Saturday September 25, 2021 from 3PM to 5PM in the Herron Funeral Home 458 Center Street Bethlehem, PA 18018. www.Herronfuneralhomes.com