Angel Luis Rosado Cartagena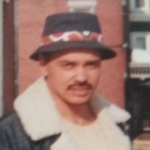 Angel Luis Rosado Cartagena, 69 of Bethlehem passed away on Tuesday, April 3, 2018 at his home. He was the husband of Roxanne Marie (Keck) Rosado.
Born in Corozal, Puerto Rico on June 15, 1948 he was the son of the late Salomon Rosado and Maria Cartagena.
Survivors: Wife Roxanne; sons Angel Luis Rosado, Jr. and his wife Lori, Nicholas Rosado and his wife Rebekah and Danny Rosado; daughters Victoria Rosado and step-daughters Angela Rosado DeJesus and her husband Daniel and Lisa Marie Ryan and her husband Chris; brothers Jose David Rosado, Salomon Rosado, Jr., Victor M. Rosado and Hector Rosado; sisters Maria and Elena Negron; 13 grandchildren and 3 step-grandchildren.
Service: There will be a viewing on Friday, April 6th from 2PM- 4PM at the John F. Herron Funeral Home, 458 Center Street, Bethlehem, PA 18018.
Contributions: To St. Jude's Children's Hospital Research.