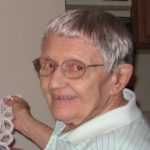 Irene C. Biro, 87 of Allentown, died on Saturday, March 31, 2018 at Cedarbrook Nursing Home. She was the wife of the late Francis M. Biro.
Irene was born in Allentown on August 15, 1930, daughter of the late Frank and Suzannah (Mate) Pihoker.
She was a member of St. Stephen's of Hungary Catholic Church in Allentown.
Survivors: Sons Timothy and his wife Debbie, and Frank and his wife Nancy; three grandchildren and three great- grandchildren.
Service: Memorial Service on Saturday, August 4th at 10:30AM with a calling hour from 9:30-10:30AM at the Sell-Herron Funeral Home, 1145 Lehigh Street, Allentown.  Burial will follow at Sacred Heart Cemetery, Allentown.
Contributions: To the church.