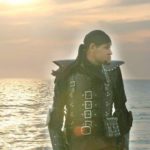 Conrad Santini III of Bethlehem died on Saturday, March 31, 2018 at Lehigh Valley Hospital-Bethlehem surrounded by his family and friends.
Conrad was born in Flint, Michigan on October 16, 1973, son of Conrad and Karen M. (Anthony) Santini.
He attended Johnson and Wales Culinary School in Providence, Rhode Island. Later he was a Certified Nursing Assistant.
Survivors: His parents Conrad and Karen, sister Alicia Marisol Taveras wife of Billy Taveras of Houston, Texas, nephew William Antonio Taveras, also survived by uncle Kenneth Anthony, Aunts Tomika Brooks and Rachel Hayes, cousins Korim, Kia , Kellee, Shawn and numerous other more distant relatives.
Service: Time of Remembrance on Saturday April 7, 2018 from 2PM to 4PM with a Time of Sharing at 3PM in the John F. Herron Funeral Home 458 Center At Market Street Bethlehem, PA 18018.