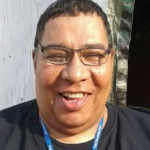 Angel M. Quinones, 61 of Bethlehem died on June 19, 2017 at his home.
Angel was born on September 21, 1955 in Arecibo, Puerto Rico son of the late Marcelino and Ines (Rivera) Quinones.
He worked in the machine at the Bethlehem Steel Company for many years.
He attended The Pentecostal Church of Bethlehem on Pembroke Road.
Survivors: His daughters Jasmarie Quinones and Cynthia Rivera; sisters Aida Flores, Betzaida Santiago and Norma Quinones; brother Samuel Quinones; eight grandchildren, nieces and nephews.
Service: Funeral Service on Friday June 23, 2017 at 1 PM in the John F. Herron Funeral Home 458 Center Street Bethlehem. Calling hours on Thursday from 7PM to 9 PM and Friday from 12noon to 1 PM in the Funeral Home.