Ann Sayre Linderman Shanley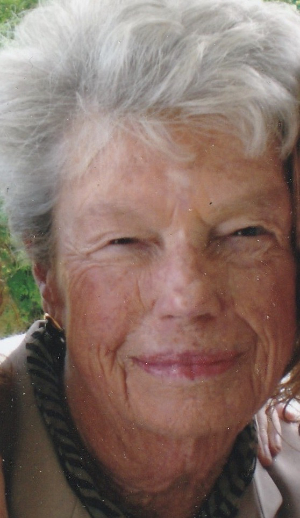 Ann Sayre Linderman Shanley died at Moravian Hall Square in Nazareth, PA on December 19, 2020, suddenly but peacefully, while taking physical therapy.   She had recently celebrated her 92nd birthday in a Zoom call with 21 family members.   She had tested positive for COVID-19 two days earlier, was mending a broken hip, and had been isolated for months in quarantine; but she was anticipating Christmas, a season of giving she loved.
Mrs. Shanley found it hard to give herself a compliment, but there have been many sent her way.  She was elegant, intrepid, resilient, warm, giving, brave, and creative.  She swam with grace, and was expert in the old fashioned arts of letter writing and flower arranging.  She travelled to Wyoming in 2018 for her granddaughter's wedding and swam in the Salt River.  The water was freezing cold on a hot day, and she couldn't have been happier in her trademark bathing cap.  That morning she gathered wildflowers, standing in a cow paddock, tossing her walker aside, fixing thistles and cornflowers to make stunning reception arrangements. She laughed when the wild horses came onto the porch for breakfast. It was her first trip West, at the age of 89.
Mrs. Shanley was born in New York City on December 4, 1928, to Robert Packer and Jane Elizabeth Linderman.  She was a descendant of Robert Heysham Sayre and Asa Packer, who founded Lehigh University.  Shanley's grandmother, Ruth May Sayre Linderman, was a major benefactor of the Church of the Nativity in Bethlehem. Her mother's family, the Wilkinsons, were educators and poets.  Shanley attended Moravian Preparatory School, graduated from Liberty High School and attended Colby Junior College before leaving college to marry Shellman H. Brown, a WWII infantryman who had been taken prisoner in the Battle of the Bulge.  She was 20.  She had five children, two of whom died in childhood.  Mrs. Shanley sang in the Bach Choir of Bethlehem and took part in the Junior League.  After an early divorce, she faced the challenges of being a single mother and earning a living in an era when support for divorce, Post Traumatic Stress Disorder, handicapped children, single parenthood, and addiction didn't exist.
Shanley found joy in her life despite many early challenges. After seeking rehabilitation at Alina Lodge in Blairstown, NJ, she met Mike Shanley, and married him (secretly – fraternization was frowned upon at the Lodge.)  For the next four and a half decades they wrote notes to each other several times a day offering love and support.  He called her the "Energizer Bunny."  Both of them gave counsel and encouragement to fellow travelers who faced addiction, he professionally, and she with friendship and encouragement. Mrs. Shanley marked 50 years of sobriety recently.
With Mike, she ran the "The Garden Gate" and the "Gourmet Gardener" shops in New Jersey. Mrs. Shanley then set up her Nazareth shop, "The Jelly Cupboard," when they moved there in the late1980's.  Her style – evident in her home – centered around comfort, color, and antiques, and her shops reflected the same love of pretty things.  Her skills later deployed one last time at the Shop on the Commons at Moravian Hall Square which she managed as a volunteer until retirement.  She and her husband were volunteers at Moravian. They pushed the older residents' chairs to evening events, stopping in to chat with isolated elders.  At 71, she travelled abroad for the first time, to visit her family in Morocco, and then over the next 15 years to France, England, and India, where she sat on the floor of the Golden Temple in Amritsar, ate with her hands from the communal tin plate and marveled at the marigolds.
Survivors include her brother, Robert Packer Linderman III, of Westwood, MA, her son, Michael Brown of Saugerties, NY (Phyllis) and her daughter, Eden Brown Thomas of Arlington, VA  as well as five grandchildren she adored: Sarah Blake, Jenny Knoche, Jessica Dunn, Elizabeth Thomas-McKay, and Youssef Thomas.   She will be missed by her niece, Nicole Linderman, and her great grandchildren: Delilah, Charlotte, Aya, Isa, Nora, and Isaac.  All will remember her exquisitely wrapped packages that smelled like potpourri, and her love of music,  swimming in the ocean, singing, Zinnias, and shopping.  She loved the opera, her friends, a drive or a walk in the country, and a big stack of pancakes.  Mrs. Shanley didn't like cursing, computers, quarantine, and the dark days of winter.   She was a champion of courtesy, loved a good laugh, and had impeccable taste.   And she knew all the back roads and where the wild Bittersweet grew.
Ann Shanley was bright and engaged up to the end. She wrote postcards for women running for office in Virginia in from 2016 to 2020, and in November 2020, nursing a recently broken shoulder, she insisted on casting her vote for the new president at the Easton Courthouse.
Donations in her memory to the Cathedral Church of the Nativity, her beloved church, would be a wonderful way to honor her memory, at nativitycathedral.org, as would donations to Alina Lodge, Blairstown, NJ at 833.753.0866.  A memorial ceremony is being planned for September, when it is safe to do so.  Funeral arrangements are being handled by the Herron Funeral Home in Bethlehem.  www.Herronfuneralhomes.com