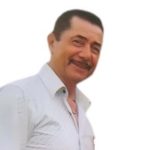 Israel Lopez, 76 of Allentown passed away on March 13, 2021.
Israel was born in Hatillo, Puerto Rico on October 1, 1944. He was the son of the late Santos and Maria (Lopez) Rivera.
Survivors: His four sons Frank Lopez (Joanne), Eduardo Lopez (Sandra), Ricardo Lopez (Fiancé Wanda Roman) and Christian Lopez; three daughters Joanne Rivera (Omar Rivera), Jomaira Medina (Jose Medina) and Maria Velez Lopez, 10 grandchildren, former wife Mirtalina Velez Lopez, along with many brothers and sisters.
Viewing and Service: Wednesday March 17, 2021, viewing 10AM to 11AM followed by the service at 11AM all at the Herron Funeral Home 458 Center Street Bethlehem, PA 18018. Burial in Woodlawn Memorial Park Cemetery in Allentown. www.Herronfuneralhomes.com