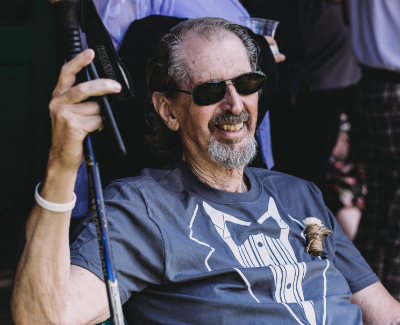 Hey hey hey I'm on my way from Emmaus!  Bruce A. Williams son of Alden H. Williams and Grace B. Williams born in  New Haven, CT on June 29, 1940  and passed away on December 12, 2021.
While living in N.H. I liked girls, cars and horse shoes.  I played the trumpet for 8 years and was class president in 8th and 9th grade. I loved to go deep sea fishing with my Dad, fresh water fishing with my Uncle Ralph and was an avid bird watcher.  I loved to ride motorcycle with my best friend Tom Burns .  I moved to PA in 1956 where I enjoyed hot rods, motorcycles  and hated school.
I joined the Army at age 18 and served for 37 months which got extended due to the Berlin Crisis.  I had secret clearance as a radar operator, top secret for nuclear missile sites  and was discharged on May 5, 1962.
I worked at Sears for 5 years; quit then ran a wheel and rim company; drove tractor trailer for Johnson Motor Lines for 9 ½ years; worked for Liberty Bell Beverage until now, where I drove to Baltimore, VA, Washington, DC, the docks in NJ, NYC and Toronto, Canada.
I got  neck cancer when I was 62 years old and lung cancer when I was 71 years old.
I had two great bosses Lee Goldstein and Jacob Mesa as they were more than just bosses, but great friends and people to talk to and confide in.
I married Christine Skubish and we were married 48 years.
Survivors:  Wife Christine, daughters Gwenn (Dan) and Michele (Cathy), son Douglas; sister Sally Zampariolo and nephew Andrew; two granddaughters Misty and Kacy (Mike), seven great-grandchildren Jacob, Hunter, Paiton,
Hayden, Willie, Timmy and Noah.
Yo, Yo, Yo time to go.  Peace to all.
Service: There will be no viewing or service, as I wish to be cremated with my ashes to be scattered with nature.
Contributions: In lieu of flowers send contributions to St. Jude's or just have a drink.