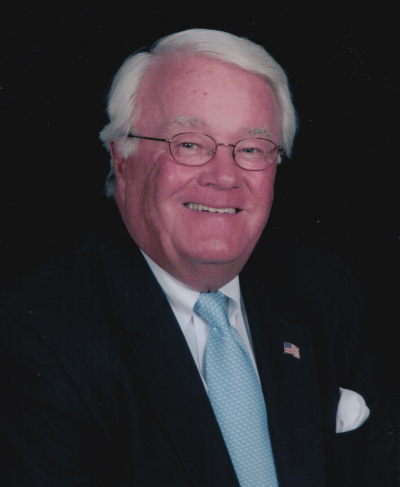 Keith Rust, 87 of Bethlehem passed away peacefully in his sleep Friday March 25, 2022. Keith was predeceased by his beloved wife Jill E. Rust who passed away September 2, 2021. They were happily married for 63 years.
Born February 22, 1935 in Pittsburgh, PA Keith was the son of the late Charles H. and Anna Virginia (Green) Rust.  He was also predeceased by his brother Richard S. Rust and his sister Joan V. Hayes.
Keith was a graduate of Lehigh University where he was a member of Phi Gamma Delta Fraternity and the Lehigh University football team.  Keith remained an avid Lehigh supporter his entire adult life having served as a past member of the Lehigh University Board of Trustees, Past President of the Alumni Association and was active with the Lehigh University Athletic Partnership and the football program.  Keith and Jill were fixtures at all Lehigh home football games, tailgating at the Rust Family Football Pavilion and Keith rarely missed an away game.  They would also be seen at countless other Lehigh sporting events.
Keith served our country as an officer in the US Army; then worked for the Aluminum Company of America living in Atlanta, GA.  In 1962 he and Jill moved back to Bethlehem, PA where he worked with his father-in-law at Roland & Roland, Inc.  In 1967 Keith became President and owner of Roland & Roland, Inc. where he spent the remaining 40 years of his career.  He was active in the building products industry and served as a Past-President of the National Building Material Distributor Association.  He was also active in many other industry related organizations.
Keith was an avid sports fan and was a big supporter of the Pittsburgh Steelers, Philadelphia Flyers and Penske Racing.  In addition, Keith was an avid golfer and was a member of Saucon Valley Country Club for over 50 years where he was a past member of the Board of Governors.  He was also a member of Rotary International, past member of the Bethlehem Jaycees, The Fairway Club, and he was a member of the First Presbyterian Church of Bethlehem.
Keith and Jill were blessed with 4 children, Tracy D'Entremont, Wayne K. (Chip) Rust husband of Sherry, Karen Ruggiero and Craig E. Rust husband of Shannon; 12 grandchildren James husband of Lucy, Katie, Devon; Adam and Courtney Koehler wife of Joshua; Sarah, Josh husband of Melissa, Seth and Jonah; Katelyn, Collin and Ryan; and 2 great-grandchildren Sadie Koehler and Penelope Ruggerio.  Keith and Jill's greatest joy was their family especially when they were together at their Ocean City, NJ  beach house.
Calling hours will be Friday, May 6th at the Herron Funeral Home in Bethlehem from 3 to 6 PM.  Private Services will be held with burial in Nisky Hill Cemetery.  www.Herronfuneralhomes.com
Contributions: in Lieu of flowers may be made to Lehigh University Athletics Partnership, in memory of C. Keith Rust, Lehigh Athletics, 641 Taylor Avenue, Bethlehem, PA  18015.