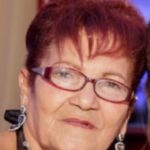 Concepcion Suarez, 76 of Bethlehem and San German, Puerto Rico dies on January 29, 2020 in Lehigh Valley Hospital-Muhlenberg. Wife of Samuel Rosario.
Concepcion was born on September 20, 1943 in Ponce, Puerto Rico, daughter of the late Dionisio and Leanor (medina) Suarez.
SURVIVORS: Husband Samuel, son Jose Cortes and his wife Cynthia, daughters Nilda Santana and husband Holvin, Eduvigis Ferman and husband William, Wanda Miguel and husband Steven and Debra Rosario; sisters Elsie Suarez and Ana Suarez, brothers Dionisio Suarez and Feleiz Suarez, 20 grandchildren and 16 great-grandchildren. Predeceased by a sister Rosa Suarez and a brother Mario Suarez.
VISITATIONS: There will be a viewing on Saturday February 1st from 1PM to 4PM and Sunday February 2nd in the Herron Funeral Home 458 Center At Market Street Bethlehem, PA 18018. Interment will be private.