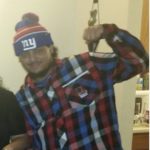 David R. Troche, 31 of Bethlehem died on September 8, 2019 at the University of PA Hospital.
David was born in Bethlehem on June 24, 1988, to Diana (Calcano) Troche and David Q. Troche.
Survivors: Mother Diana and father David; sons Davyian Troche and Kayden Troche and their mother Shauntay Sanchez; brother Alberto "Macho" Calcano; sisters Josephine Soriano, Sandra Troche and Emiliana Troche; nieces and nephews and aunts and uncles.
Service: Viewing on Saturday, September 14, 2019 from 2-3 PM with a service at 3PM at the John F. Herron Funeral Home, 458 Center Street, Bethlehem, PA 18018. www.Herronfuneralhomes.com.