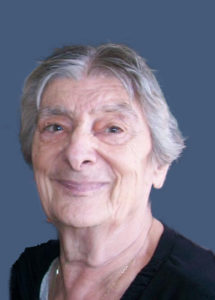 Katina Mikroudis, 90 of Bethlehem died on Saturday September 7, 2019 at Lehigh Valley Hospital-Muhlenberg.  Wife of the late Peter Mikroudis who died in 2008.
Born  in Chios, Greece daughter of the late Konstantine and Maria (Kavoulas) Apostolidis.
Katina was a faithful member of St. Nicholas Greek Othodox Cathedral in Bethlehem.
Survivors:   Daughter Argie of Boston; Sons Steve husband of Kalliope and Gus all of Bethlehem; Four Grandchildren Panayiotis(Kari), Pandelee, Yianni and Maria (Vasili).
Service:  Monday September 9, 2019 at 11AM in St. Nicholas Greek Orthodox Cathedral of Bethlehem 1607 West Union Blvd. Bethlehem, vieiwng 10 AM to 11 AM in the Cathedral.  Burial to follow in Holy Protection Monestary in White Haven.
THERE WILL BE BUS TRANSPORTATION PROVIDED FOR THOSE TRAVELING TO HOLY PROTECTION GREEK ORTHODOX MONASTERY FOR THE BURIAL  AND THE MAKARIA (MERCY MEAL).  THE BUS WILL RETURN YOU BACK TO THE CHURCH FOLLOWING THE MAKARIA.
Contributions: To the Cathedral, 18018 or Holy Protection Greek Orthodox Monastery 1 St. Joseph's Way White Haven,PA 18661.