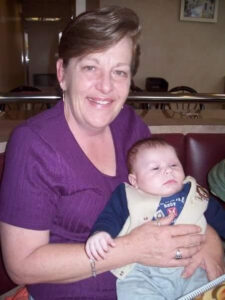 Deborah A. Adamopoulos, also known as Debbie, passed away on April 23, 2023, at the age of 63, in Bethlehem, PA. Debbie was born on September 2, 1959, in Hanover, PA, to Dean and Esther (Glover) Becker.
Debbie was a graduate of LCCC with her Licensed Practical Nurse Degree and was a dedicated home care nurse for many years. She met the love of her life Stavros (Steve) Thalassinos and spent 35 years with him prior to his passing in December of 2020. They are reunited and dancing together again.
Debbie enjoyed spending time with her family. She was a selfless woman who always made sure her children and grandchildren were loved and taken care of. Debbie loved listening to the hits of the 70's and 80's and blessing the world with her sarcasm.
She is survived by her children Marina Crocheron and husband Rafie, Caitlin Thalassinos and partner Ricardo Cortes, Stavros Thalassinos and partner Amber Fritz, and Abraham Thalassinos, along with her 12 beloved grandchildren – Elysia, Daenece, Danica, Joaquin, Iyahna, Ricky, Odessa, Gio, Arabella, Ally, Isabel, and Alex and 1 great grandchild Elena. Sisters Marcia Thatcher (John), Cynthia Heagey (Rodney), and Andrea Inskip (Bradley) and nieces.  Debbie was preceded in death by the love of her life Stavros (Steve) Thalassinos, father Dean Becker, and Mother Esther Becker.
A graveside ceremony will be held for Debbie's family and friends at Greenwood Cemetery in Allentown  on May 6, 2023 at 3PM. Debbie will be deeply missed by all who knew and loved her.  www.Herronfuneralhomes.com