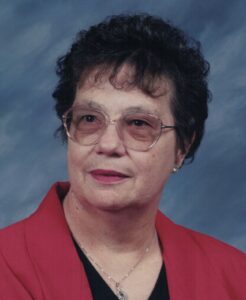 Laura E. Eckroade Bachman, 88 of Bangor passed away on April 21, 2023 surrounded by her family at the Hospice House of St. Luke's in Bethlehem.   She was the wife of Frank E. Bachman, they would have been married 38 years on August 2nd.
Laura was born in Bethlehem on December 9, 1934 daughter of the late William and Anna (Fritchman) Lynn.
She was a member of the Evangelical Lutheran Church in Bangor  and a  member of the Washington Twp. Ladies Auxiliary.
Survivors: Daughters Sandra Huegel (Roland), Patricia Taylor and Carol Shelly (Richard), son David W. Eckroade, daughter in law Wendy Eckroade,  step-daughter Gina Marie Bachman, 8 grandchildren, 13 great-grandchildren and one step-grandson. Predeceased by a son Robert W. Eckroade on April  17, 2023, a son in law John Taylor and 5 brothers.
Visitation and Memorial service:  Wednesday April 26, 2023, visitation 10AM to 11AM followed by the Memorial Service at 11AM in the Herron Funeral Home 458 Center At Market Street Bethlehem, PA  18018.  Burial to follow in Northampton Memorial Shrine Cemetery in Palmer Twp.  www.Herronfuneralhomes.com
Memorial Contributions:  To St. Luke's Hospice