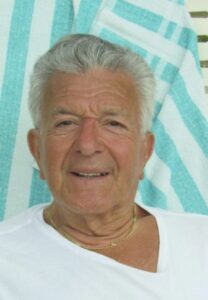 James C. Capetanakis, 90 of Allentown passed away on April 20, 2023 at Lehigh Valley Hospital-Cedar Crest.  He was the husband of Niove (Dimitriadis) Capetanakis, they would have been married 61 years on May 20th.
Jimmy was born in Sparta, Greece on July 31, 1932, son of the late Constantine and Helen (Maravel) Capetanakis.
He was the owner of the Park House Restaurant in Park Slope, NY  and he was a realator for Apollo 14  in Bay Ridge, NY.
Jimmy was a member of St. Nicholas Greek Orthodox Cathedral in Bethlehem.  He was a member of the Order of AHEPA.
Survivors: Wife Niove, daughters Elaine Venizelos wife of Nick of Allentown and Dina M. Angle wife of  Richard  of Brooklyn, NY, daughter-in-law Aspasia Capetanakis of Brooklyn, NY,  eight grandchildren Naomi and husband Matthew, James, Jonathan, Elefteria, Niove, Nate, Gregory and Marianna; brother Basil Capetanakais and wife Angie of Brooklyn, NY.  Predeceased by a son George Capetanakis, sister Harriet Dannevig and brother Thomas Capetanakis.
Viewing and Funeral Service:  Tuesday April 25, 2023 viewing 1PM-2PM followed by the Funeral Service at 2PM all at St. Nicholas Greek Orthodox Cathedral 1607 West Union Blvd. Bethlehem, PA  18018.  Burial in Cedar Hill Memorial Park Cemetery in Allentown.
Contributions: May be presented to The Cathedral or St. Jude Children Hospital.