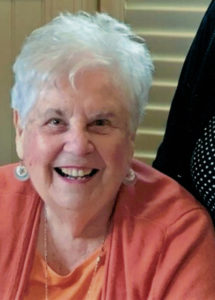 Dolores "Dee" Versacci age 86 of Lois Lane in Bethlehem, PA passed away on March 14, 2020. Dee was born in Annapolis Maryland on June 23, 1933, and is the daughter of Steven Spanitz , a US Navy WW II veteran, and Helen( Chapman) Spanitz of Bethlehem, and is the granddaughter of Steven and Angela Spanitz of Nazareth, and Ervin and Lily Chapman of Bath.
She grew up in Bath, PA ,until her family moved to Bethlehem during high school. After graduating from Bethlehem High School, she attended the Easton Hospital School of Nursing becoming a Registered Nurse. She would work as a nurse for 50 years, almost all of it at St Luke's Hospital in Bethlehem.
During her long nursing career, she worked in the Emergency Care Unit , Intensive Care Unit, The Intravenous Team and within the Occupational Health team. She finished her career working at the Urgent Care unit at St Luke's North.
Dee donated many hours of community service and was a volunteer at St Luke's Visiting Nurse team, St Luke's Hospice team, and also worked as a private duty nurse. She also spent time as a medical nurse volunteer in Honduras. She lived and traveled all over Europe with her husband and son for 3 years.
Dee was a long time member Christ UCC Church in Bethlehem, as well as a member of the choir, consistory and their community outreach. She also worked as a volunteer at the Bethlehem Musikfest.
Dee was a devoted wife, mother, sister and a kind, fun and wonderful friend to many. Dee enjoyed music, books, flowers, and was beloved by her many friends for her personality and great sense of humor.
Dee was predeceased by her husband of 32 years, Dr.  Charles" Charlie" Versacci, and her brother Buckley Spanitz.
SURVIVORS: She is survived by her sisters Sandra Spanitz of Bethlehem and Carol Licaretz of Philadelphia, and her son, Timothy, of Newport Beach, CA.
SERVICES: Graveside Service  on Saturday June 24, 2023 at 10:30AM at Nisky Hill Cemetery  Church Street Bethlehem,PA 18018.  A Life Celebration will follow  at 11:30AM at the Herron Funeral Home  458 Center Street  Bethlehem, PA 18018.
www.Herronfuneralhomes.com .
CONTRIBUTIONS: In her memory to St Luke's Hospital and Greater Delaware Valley MS Society.