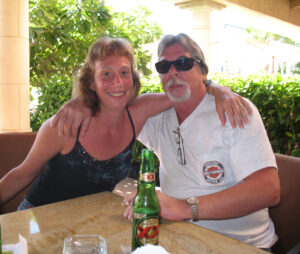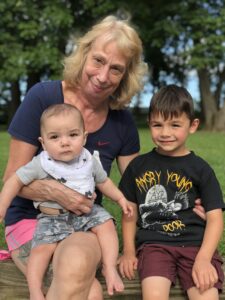 Donna L. (Berger) Hanzl, age 60, of Bethlehem passed away unexpectedly at her home on April 19, 2022.  She was the wife of Joseph J. Hanzl III for 35 years until his passing on January 12, 2020.
Born in Allentown on August 30, 1961, she was the daughter of Donald Berger and the late Eleanor (Ross) Johnson.  Donna worked at various restaurants in the Lehigh Valley as a server and bartender, but most people knew her smiling face and fiery personality from Marblehead Chowder House, where she worked for over 20 years.  She was full of life and put her heart and soul in everything she did.  She grew up spending a lot of her childhood on the water and that love continued into her later years, hanging out river-side at the Frick Boat Club where she spent many summer days and nights skiing, wakeboarding, cooking, and creating memories with friends and family.  When she wasn't at the boat club she could be found rocking out to Sammy Hagar and AC/DC while in her kitchen making jams and jellies, various hot pepper confections, candy apples and other sweets, or cooking up her husband's favorite dishes, dog at her side.  After her daughter Danielle graduated college, Donna found a new love in Cabo San Lucas, Mexico, where she returned many times with her beloved husband, Joe.  Some of the fondest moments on those vacations were celebrating the marriage of her daughter and son-in-law, Shaun, and catching marlin on deep sea fishing excursions.  Though Donna and Joe's Cabo vacations were curtailed due to Joe's illness, she quickly found her next calling as her husband's fully dedicated caretaker and support system.  During those years Donna and Joe welcomed two beautiful grandchildren, Cash (7) and Austin (3), and therein Donna found her next calling in life…. grandmother.  If you could ask her today what her greatest joys in her life were, she would tell you it was in the countless moments spent playing, reading, baking, crafting, and snuggling with her grandsons.  Donna's zest for life and devotion to her friends and family were something not easily put into words… but one thing is certain, the imprints she has left behind on us all …. are engraved in our hearts forever.
Survivors:  Her father Donald Berger and wife Linda, daughter Danielle Yanchuk and son-in-law Shaun,  stepson James McCafferty-Hanzl and wife Emily, two grandsons Cash and Austin Yanchuk, and pup Lucas.
Viewing: Monday April 25, 2022 from 6Pm to 8 PM in the Herron Funeral Home 458 Center Street Bethlehem, PA  18018.  A Celebration of Life to be announced , www.Herronfuneralhomes.com  
Contributions:  American Cancer Society