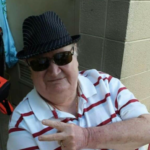 Edwin M. Viera, 72 of Bethlehem died on October 28, 2019 at St. Luke's Hospice House.
Edwin was born on March 15, 1947 in Juncos, Puerto Rico to the late Juan Viera and Luz Maria Rodriguez.
Survivors: Son Eric Cora and stepson Osvaldo Garcia; sisters Evelyn Viera, Elsie Viera, Patricia Viera, Pegie Viera, Omayra Virea and Aida Viera; many nieces and nephews. Predeceased by three brothers.
Service: Viewing on Friday, November 1, 2019 from 10AM – 11AM with a service at 11AM in the John F. Herron Funeral Home, 458 Center At Market Street Bethlehem. Burial to follow at Nisky Hill Cemetery. www.herronfuneralhomes.com.
Contributions: To the family in c/o the Funeral Home.