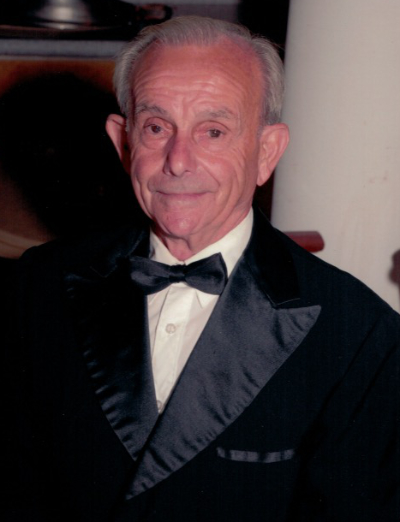 Eugene J. Iasiello, 92  of Bethlehem died peacefully on July 6, 2021.  He was the husband of LaMay (Siegfried) Iasiello for 65 years until her passing on June 2, 2015.
Eugene was born in Fountain Hill on August 22, 1928, son of the late Anthony and Amelia (DiMeglio) Iasiello.
After graduating from high school, Eugene proudly served his country in the US Navy on the USS Oriskany, specializing in hydraulics.
Eugene was a great athlete, who loved sports and competed in high level Fast Pitch Softball, his only wish was that he was taller.
After the Navy, Eugene worked as a Brick Layers apprentice and continued to work his way up to the position of Foreman and supervised jobs and work crews for Norman W. Engler, Inc.  Eventually starting his own company, Gene Iasiello & Sons, Inc.
He attended Sacred Heart of Jesus Church in Bethlehem Twp.
Eugene, loved living life, singing, dancing and playing his trumpet.  He loved performing whether with Chansonnette or in front of his family.  He was an avid golfer and was the best one on the course.
In Dad's words, "I have lived a long and wonderful life, have a wonderful family and great friends"  OH MA MA……
Rest easy Sailor, we got this.
Survivors: His children Toni M. Flanagan (James), Brian Iasiello, Michelle Blum (Ken Spaulding), Alice Rugis (Ed Brock) all of Bethlehem, Gene D. Iasiello (Marie)  of Nazareth, LaMae Neifert (Scott) of Port Richey, FL  and Dolores Scanlon (George) of Bethlehem; 20 grandchildren, 22 great-grandchildren; two sisters Gloria Keeler of Fountain Hill and Anna Marie Hallman of Allentown.   Predeceased by 2 brothers and 4 sisters.
Service: Calling on Monday July 12, 2021  from 6-8 PM at the John F.  Herron Funeral Home 458 Center At Market Street Bethlehem.
Funeral Mass: Mass of Christian Burial on Tuesday July 13, 2021 at 10:30 AM in Sacred Heart Church, 1817 1ST St., Bethlehem. www.Herronfuneralhomes.com.
Contributions:  In lieu of flowers to the Alzheimer's Association c/o the Funeral Home.