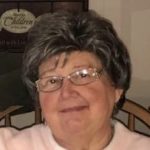 Frances A. Lehr, 80 of Allentown died on January 2, 2021 at Lehigh Valley Hospital-Pocono. Wife of the late Ronald E. Lehr who passed in 2018 and the late Richard Piskula who passed in 1969 in while serving in the Vietnam War.
Frances was born in Allentown on February 7, 1940 daughter of the late James and Annette F. (Chandlee) Kingston.
She was a member of Christ Lutheran Church in Allentown.
She was a customer service representative at Aetna Insurance, worked at the JC Penny Catalog Counter and was a crossing guard for ASD on the corner of Lehigh and Wyoming Streets for many years.
Frances was a Life Member of the Fearless Fire Company #14.
She was a member of Topps, enjoyed beading and ceramics.
Frances enjoyed vacations with family and friends at their cabin in Sullivan County for many years.
Survivors: Son Daniel R. Lehr husband of Jessica of Downingtown; daughters Dianne Gorostiza (nee: Piskula) wife of Dionisio of San Antonio, Texas and Anita Capparuccini (nee: Piskula) of San Antonio Texas, six grandchildren Dominic, Sarah, Anthony, Jared, Joshua and Kate. Predeceased by a sister Dianne Molchany, Carol Roberts and a brother James Kingston, Jr.
Viewing & Service: There will be a viewing on Thursday January 7, 2021 from 10AM to 11AM followed by the Funeral Service at 11 AM at the Sell-Herron Funeral Home 1145 Lehigh Street Allentown. Burial at St. Mark's Cemetery in Allentown. www.Herronfuneralhomes.com
Contributions: Allentown Rescue Mission 355 W. Hamilton St. P.O. Box 748 Allentown, PA 18105-0748.