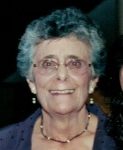 Frances LaSauce, 93 of Whitehall died on February 11, 2018 at Lehigh Valley Hospital-Cedar Crest. Wife of the late Henry L. LaSauce, who died on December 15, 2005.
Frances was born in Queens, NY daughter of the late John and Phillipa (Stamatakis) Carris.
She was a bank teller for many years.
Frances was a member of St. Nicholas Greek Orthodox Cathedral in Bethlehem, active with the Senior Citizens and volunteering at the annual church bazaar.
Frances enjoyed sewing, crocheting, knitting, baking and loved to work in the garden.
Survivors: Her daughter Jacqueline Leipert, wife of Dr. Dieter W. Leipert of Macungie, granddaughter Kristen Leipert, wife of Jon Nieves; two great-grandsons Julian and Lucien Nieves. Predeceased by four sisters and three brothers.
Service: Funeral Service on Friday February 16, 2018 at 9:30 AM with a viewing from 8:30AM to 9:30 AM all at St. Nicholas Greek Orthodox Cathedral 1607 W. Union Blvd. Bethlehem. Burial, Calverton National Cemetery in Calverton, NY.
Funeral arrangements are by the Sell-Herron Funeral Home in Allentown.
Contributions: To the Cathedral or to Meals on Wheels-Lehigh County.