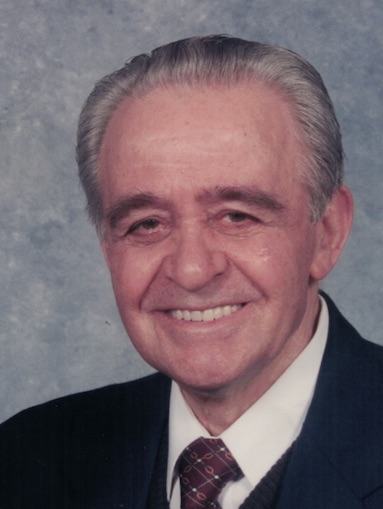 George Sitaras, 93 of Bethlehem passed away on December 19, 2020  at home surrounded by his family.  He was the husband  of the late Hariklia (Neamonitis) Sitaras for 72 years until her passing on July 15, 2020.
George was born in Chios, Greece on September 27, 1927 son of the late Yiannis and Kalliope (Zannis) Sitaras.
George was the owner of George's Oasis on Schoenersville  Road in Bethlehem for many years
He was a faithful member of St. Nicholas Greek  Orthodox Cathedral in Bethlehem.
Survivors:  Son John Sitaras, husband of Eleni  of Nazareth, daughters Kelly wife of James Mihalakis of Bethlehem  and Debbie wife of Nicholas Kotsatos of Bethlehem; six grandchildren John Kotsatos husband of Maria, Michael Mihalakis husband of Arezoo, Jeffrey Mihalakis husband of Carl, George Sitaras husband of Dimitra, Vasili and Lea Sitaras. Predeceased by a granddaughter Lea Kotsatos in 1986. Six great-grandchildren Anna and Zoe Kotsatos, Darian, Cameron and Rustin Mihalakis  and Luke Mihalakis. Predeceased by 3 brothers and  2 sisters.
VIEWING AND SERVICE: There will be a viewing on Wednesday December 23, 2020 from 10:30AM to 11:30AM followed by the Funeral Service at 11:30AM at St. Nicholas Greek Orthodox Cathedral. The  funeral service will be livestreamed using the following stnicholas.org/Sitaras
Burial in Cedar Hill Memorial Park Cemetery in Allentown. Facemasks and social distancing are required. Funeral arrangements are by the John F. Herron Funeral Home in Bethlehem. www.Herronfuneralhomes.com
Contributions:   AGAPI FUND (established  by the Sitaras Family to raise funds for families in need due to the pandemic) checks payable to AGAPI FUND , mailed to Herron Funeral Home 458 Center St Bethlehem,PA 18018