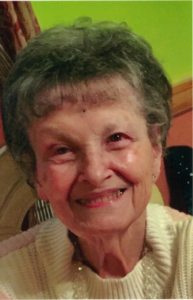 Georgine M. Zeppenfelt, 95 passed away peacefully on December 24th, at her daughter's home. Born, January 24, 1925 in Allentown, PA, she was the daughter of the late George and Viola (Rose) Rassler. She was the wife of Michael C. Zeppenfelt, Sr., who passed away on June 5, 2011.
Georgine was a collar setter for the former Lehigh Valley Shirt on Union Street in Allentown until her retirement in 1987. She was along time member of Grace United Church of Christ, Allentown, PA.
Survivors are daughter, Brenda V., wife of Kerry F. McGuire of Allentown and son, Michael C. Zeppenfelt, Jr. of Zionsville, grandchildren Darren and Allison McGuire of Los Angeles, CA and Christopher M. Zeppenfelt of Kingston, PA and Kelly Reidenhour of Kutztown, PA, brother George Rassler of Allentown. She was Predeceased by brother, Larry Rassler, sister, June Zinzser and stepsisters Marjorie Barlock and Miriam (Mickey) Bastian.
Services: There will be a viewing on Monday December 30th from 10AM to 11 AM followed by the Funeral Service at 11AM in the Sell-Herron Funeral Home 1145 Lehigh Street Allentown, PA. Burial in Cedar Hill Memorial Park in Allentown.
Contributions: May be made to Grace United Church of Christ 623 Cleveland Street Allentown, PA 18103.