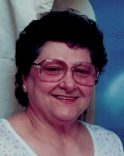 JoAnn A. Haffner, 82 of Allentown died on March 24, 2016. She was the wife of the late Hugh T. Haffner who died on September 27, 2015.
JoAnn was born in Allentown on November 5, 1933, daughter of the late Clarence H. and Francis B. (Fritzinger) Geist.
Survivors: Daughter Tammy M. Hechler, wife of Scott of Allentown; sons Michael Hugh Haffner and Daniel Thomas Haffner both residing at home; grandson John W. Kline, Jr.; four great grandchildren Dallas, Baelyn, Landon and Averex; sister Shirley Ruch of Emmaus. Predeceased by her brother William Geist and sister Julie Brunner.
Service: Funeral service on Monday March 28, 2016 at 11AM, with a viewing from 10AM to 11AM   in the Sell-Herron Funeral Home 1145 Lehigh Street in Allentown. Burial to follow at Cedar Hill Memorial Park Cemetery in Allentown.
Contributions: An Animal Charity of your choice.