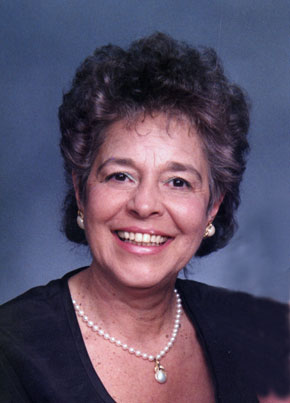 Katherine D. Herron, 84 of Bethlehem died on November 19, 2017 at home surrounded by the family she so loved.  She was the wife of the late John F. Herron for 47 years.
Kathy was born in Far Rockaway, Queens, NY on April 17, 1933, only daughter of the late Demetrius and Yota (Anagnostopoulos) Poulias.  After Katherine was born her parent's moved to Tamaqua and established Jimmy's Soda Fountain in Tamaqua.
She graduated from Tamaqua High School in 1951 and received her RN from the University of Pennsylvania in 1954.  Kathy began her nursing career at Coaldale Minors Memorial Hospital in 1954 as an operating room nurse, it was where she met her husband John.  Kathy and John married on July 24, 1960, moved to New York to assist her husband to begin his education to become a Funeral Director. Kathy worked at St. John's Hospital in Elmhurst, NY in the cardiac care unit from 1962 to 1979.
In 1979 John and Kathy moved to Bethlehem, PA when John purchased his own funeral home in 1979.  In 1980 Kathy began an 18year career as a nurse on North Wing Four at St. Luke's Hospital in Fountain Hill.  Kathy was an amazing caregiver and advocate for the patients entrusted to her care.
Katherine was a member of St. Nicholas Greek Orthodox Cathedral in Bethlehem and member of the Seniors Citizens and the Ladies Philoptochos Society.
Kathy was a member of the Order of Eastern Star, Quota Club, and the Daughters of Penelope-Paeon Chapter #253 in Bethlehem.
Kathy enjoyed summers in Ocean City, NJ with her husband John, their children and later even more with their seven grandsons and many dear friends.
Survivors:  Her four children, twin daughters Kathy Herron-Buttillo of Bethlehem and Paula C. Herron, wife of Rev. Paul D. Braden of Easton, daughter Grace T. Herron of Bethlehem and son Demetrios J. Herron and his fiancé Teri Haddad of Bethlehem, seven grandsons Demetrios, Connor, Zackary, Drew Herron and RJ, Nicholas, John Buttillo.
Service:  Funeral Service on Saturday November 25, 2017 at 12 noon with a viewing from 11AM to 12 noon in St. Nicholas Greek Orthodox Cathedral 1607 W. Union Blvd. Bethlehem. There will be a viewing on Friday November 24, 2017 starting at 6pm, with a Trisagion Service at 8:15PM followed by a Daughter's Service in the John F. Herron Funeral Home 458 Center At Market Street in Bethlehem.  Burial will be in Nisky Hill Cemetery in Bethlehem.
Contributions:  To the Cathedral, St. Luke's Hospital-School of Nursing or to Lehigh Valley Health Network-Street Medicine all in care of the Funeral Home.