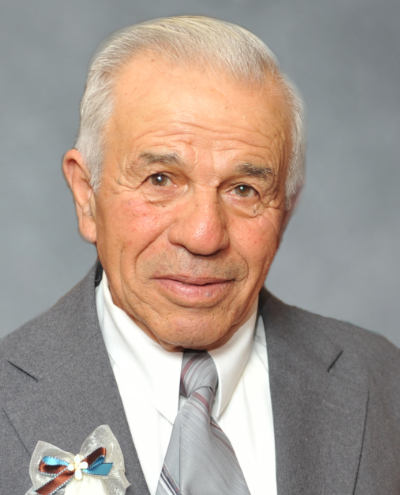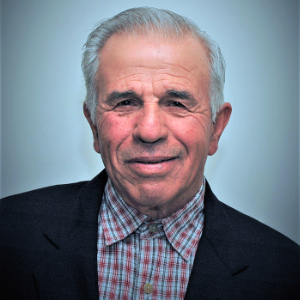 Lambros Michael Zumas, 87 of Bethlehem passed away peacefully on August 8, 2021 surrounded by his family at Good Shepherd Specialty Hospital in Bethlehem.  He was the husband of Stamatia (Skyriotis) Zumas, they would have been married 50 years on October 31st.
Lambros was born on March 31, 1934 to the late Michael Zumas and Paraskeve (Filipos) Zumas in the small village of Kambia on the island of Chios, Greece.  His family struggled through difficult times during World War II when their island was invaded, but managed to persevere through those times.  On September 8, 1954, with his parents and four siblings, Lambros embarked on the "Nea Hellas" passenger ship for a new life in the United States.  They arrived in New York on September 24, 1954 and were quickly reunited with cousins and extended family in Bethlehem, Pennsylvania.
Lambros was soon drafted in the US Army and served as a Private Frist Class in Korea. When he returned home to Bethlehem, Pa, he worked at Hoffman's Poultry, as a dishwasher at the Royal Restaurant on the southside of Bethlehem, and was briefly employed with Bethlehem Steel.  With the little money he had, he began and founded his own companies, LZ Painting and Bethlehem Sandblasting Co.  These endeavors provided him the opportunity to work with his brothers.  Despite his success in the painting business, Lambros truly enjoyed farming.  Lambros purchased a 22 acre farm on in Lower Saucon Township where he raised goats and sheep with the help of his brother, Peter Zumas.
Lambros married Stamatia (Skyriotis) Zumas in 1971 and was blessed with two children, daughter Paraskeve "Vivian" (Zumas) Nassif, and son Michael Zumas.  During his 50 years of marriage, he watched his children get married and had the joy of being surrounded by his four grandchildren.  He was a faithful member of Saint Nicholas Greek Orthodox Cathedral in Bethlehem, a life member of AHEPA, Homer Chapter 65 and Association of Kambia Society.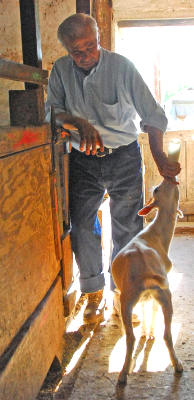 He is survived by his wife, Stamatia (Skyriotis) Zumas; daughter, Vivian I. Zumas wife of George S. Nassif; son Michael X. Zumas husband of Kate (Zansitis) Zumas; grandsons Anthony Lambros Nassif, Lambros Peter Nassif and Lambros Michael Zumas; granddaughter Despina Maria Nassif; brothers Nicholas Zumas and wife Diane (Achey) Zumas, Constantine "Gus" Zumas and wife Margaret (Skoutelis) Zumas, Peter Zumas, Spiro Zumas and wife Karen (Kiminas) Zumas; many nieces and nephews.
His family would like to send a special thanks to the kind nurses and nurses aides at Good Shepherd and Saint Luke's Hospital, as they cared for him for the last two months of his time on this earth.
Lambros will be lovingly remembered as a loving husband, father, grandfather, brother and uncle.
Viewing & Service:  Viewing on  Thursday August 12th from 6:30 to 8:30PM  and on Friday from 9:30 to 10:30AM  followed by the Funeral Service at 10:30 AM all at St. Nicholas Greek Orthodox Cathedral 1607 W. Union Blvd. Bethlehem. The service will be livestreamed using stnicholas.org/zumas
Burial in Cedar Hill Memorial Park Cemetery in Allentown. www.Herronfuneralhomes.com.
Contributions:  In his memory to the Cathedral.