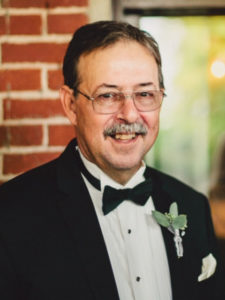 Louis "Lou" James Fantasia, 64, died on Wednesday, October 16, after a prolonged battle with Parkinson's disease. He is survived by his wife of 41 years, Cindy, and his four children—daughter Amy, her husband Christopher, and their daughters, Agnes and Wilhelmina; son Daniel, his wife Kate, and their son Mark and daughter Mia; son Andrew; and daughter Brittany—as well as his mother Elizabeth; brother David, brother Thomas, and sister Donna. He was preceded in death by his beloved brother Michael in 2010.
A lifelong resident of the Lehigh Valley and a graduate of Bethlehem Catholic High School, Lou loved besting Yahtzee opponents, completing crossword puzzles and cryptoquotes, coaching and refereeing youth and high school football, and nicknaming acquaintances, friends, and family members. He was a great storyteller who very much enjoyed talking to people and making them laugh, and he will be missed by those who knew him.
Call from 1:00 p.m. to 2:30 p.m. and memorial service at 2:30 p.m. on Saturday, October 26, at Herron Funeral Home, 458 Center Street, Bethlehem, PA 18018. Donations in lieu of flowers may be made to the Michael J. Fox Foundation.