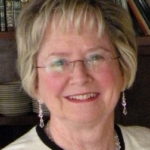 Lynne R. Johnson, 74, of Bethlehem, died on June 10, 2017 surrounded by her loving family at Kirkland Village in Bethlehem, after a long and faith-filled fight against cancer. Lynne was the wife of Donald P. Johnson, to whom she would have been married for 52 years in August.
Lynne was born in 1943 to the late Kermit and Gertrude (Preston) Reagan in Cincinnati, Ohio. At the age of three, her family moved to Nashville, Tennessee, where she attended Parmer Elementary School and participated in Girl Scouts. Lynne completed her freshman year of high school at Harpeth Hall, and was a proud member of Kappa Delta Theta Sorority. She had many fond memories of her childhood spent in Nashville.  In 1958 her family returned to Cincinnati, Ohio, and she graduated from Wyoming High School, class of 1961.
She graduated from Hood College in Frederick, Maryland, in 1965 with a B.A. in Early Childhood Education and minors in both Psychology and Sociology. Lynne taught kindergarten and first grade in Chazy, New York and Moorestown, Pennsylvania before settling in Bethlehem and raising a family. After her two children went off to college, she became a tutor and a Reading Recovery Teacher, devoting herself to struggling elementary school students to help them flourish in reading and writing. Lynne shared that same passion for learning with her seven grandchildren, whom she adored.
Lynne was a member of the Lehigh Valley Small on Scale Miniatures Club, creating small scenes with great patience and beautiful talent. She had a great love of music and instilled that love within her own family, and enjoyed making any sort of craft, artwork, or miniature display with her grandchildren.
Lynne was a lifelong Christian and a member of the First Presbyterian Church of Bethlehem. Over the years she taught Sunday School, Vacation Bible School, served as an Elder for Christian Education, and participated in many Bible Study groups throughout her life, which were especially meaningful to her during her illness.
Survivors: Her husband Donald; her son David E. Johnson and his wife Jeanine of Breinigsville, PA with grandchildren Sarah, Ethan, Norah and Paul; her son Andrew D. Johnson and his wife Helena of La Plata, MD with grandchildren Beth, Amelia, and Luke; her sister Ellen Stephenson and her husband James of Troy, Michigan; nephew James and his wife Laura, grandnephew Carter; and her niece Emily.
Service: A Memorial Service and reception will be held at 11:00 AM on July 5th at First Presbyterian Church of Bethlehem, 2344 Center Street, Bethlehem, Pennsylvania. Funeral Arrangements are by John F. Herron Funeral Home, 458 Center St., Bethlehem, PA.
Contributions: In lieu of flowers, donations may be made to the Salvation Army, which Don & Lynne have supported for many years. Remembrances can be left at Legacy.com.