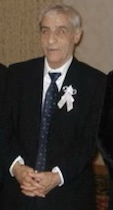 Michael James Siderias, 74, of Brooklyn, New York, passed away on August 20, 2021, in Maimonides Medical Center in Brooklyn, New York.
Mike, as he was known, was born in Kambia, Chios, Greece, on October 5, 1946, son of the late James and Georgia (Berlis) Siderias.  In December 1959, at age 13, he immigrated to the United States with his mother, and two of his siblings (Gus and Debbie).  They joined his father and elder sister, Nina, who had arrived in 1955.  The close-knit family made their home in Bethlehem.
Following school, Mike was employed as a driver for Electric Laundry.  He married in 1971.  Following his divorce, Mike moved to Brooklyn, New York, where he worked as a chef at the Caravelle Restaurant.  He also worked at various other restaurants in the Brooklyn area before retiring in 2011.
Mike's physical health began a steep decline in 2018, and it is thanks to the efforts of his sister and brother-in-law, Nina and James Condolios, that Mike was well cared for until God called him home.
Mike will be missed by his son, James Michael Siderias, of Oklahoma City, Oklahoma, his sisters Evgenia (Nina) Condolios, wife of Jimmy, of Belle Harbour, New York, and Debbie Mouhlas, wife of Nicholas, of Bethlehem, Pennsylvania, and his brother, Gus Siderias, of Bethlehem, Pennsylvania.  He is also missed by his nephews and nieces: George Condolios, Paul Siderias, George Mouhlas, Valerie Pappas (Mouhlas), Jennifer Kiprislis (Siderias), and Stephen Siderias, and a host of great-nephews and nieces and cousins.
The viewing will be Thursday, August 26, 2021, from 9:00 a.m. to 10:30 a.m., followed by the funeral service at 10:30 a.m. at St. Nicholas Greek Orthodox Cathedral at 1607 West Union Boulevard in Bethlehem, Pennsylvania 18018.  Burial to follow in Cedar Hill Memorial Park Cemetery in Allentown, Pennsylvania.  Funeral arrangements by the Herron Funeral Home in Bethlehem, Pennsylvania (www.Herronfuneralhomes.com).
In lieu of flowers, the family suggests contributions be made in his memory to the St. Nicholas Greek Orthodox Cathedral.