Paraskevoula "Voula" Changalis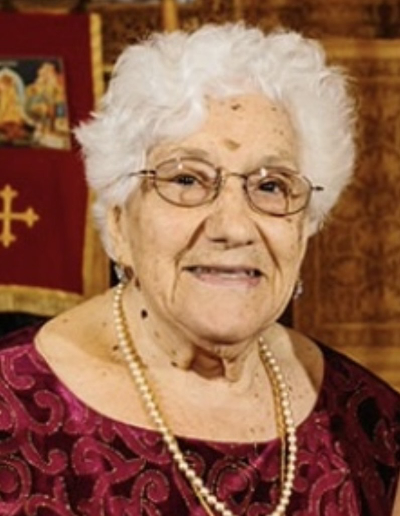 Paraskevoula "Voula" Changalis' golden heart stopped beating on April 14, 2022 with her family by her side.
Born on May 5, 1926 in Kavala, Greece, she was the beloved daughter to the late Konstandinos and Stelliani Dimtsa, and dearest sister to Artemis (deceased) and Meropi.
Voula, met Tom Changalis on his visit to Kavala and married in 1951.  In 1952 they came to the United States to build their life in Queens, NY.  Voula was a devoted wife, cherished mother to son Manouel Changalis (Rosemary), daughter Julia Nikolados (Peter), adored Yiayia by Anna (Andoni), Christina (Anthony), Lydia (Steven) ~ treasured Great-Yiayia to Rion.
Voula, was a woman of service who was always willing to make sacrifices to support her family and help people.  Having been a hard worker all her life, Voula endured more than most being widowed at 44 years of age with teen children.  Despite challenges she prevailed with unwavering strength, setting the bar high of how to persevere and care for others. She was the warmest hostess, generous, gracious and kind.
She retired in 1990 from being a Records Archivist at the Girl Scouts USA Archive Office in New York.  Previously she used her math and multilingual abilities as an International Checking Analyst at the First National City Bank.
Voula, meticulously maintained her home, crocheted stunning bedspreads and blankets, and was a skilled home cook, known especially for her spanakopita and baklava. Voula was a devoted member of the Greek Orthodox Church, always with her loved ones at the forefront of her prayers.  She cherished spending summers with her family and friends in Greenport, NY, eating fresh seafood and walking on the beach.
Relatives and friends are invited to Voula's wake on Monday, April 18, 2022 at 10:00 AM and memorial church service at 11:00 AM, at Holy Trinity Greek Orthodox Church in Hicksville, NY. Interment to follow at Long Island National Cemetery, Wellwood Avenue, Farmingdale, NY.
Voula's loving heart for children in need can be honored by donations in her memory can be made to St. Basil's Orphanage at https://sbagoa.org or to her beloved St. Barbara's GO Church, 27 Forsyth St., New York, NY 10002.