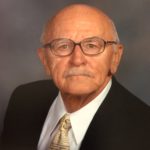 Peter T. Kalandiak, 92, of Emmaus, died on November 14, 2017 at Cedarbrook in Allentown. Peter was the son of the late John and Anna Kalandiak.  Orphaned at a very young age, he was brought up by his late aunt, Anastasia Turczyn and her daughter, Mary Turczyn.
He was an Economic Development Consultant with PPL for 33 years before retiring in 1986.
He was a member of St. Nicholas Greek Orthodox Cathedral, Bethlehem, and St. Stephen Orthodox Cathedral, Philadelphia.  He was an active member of St. Nicholas Senior Citizens.
An Army veteran of World War II, he served with the 798th Military Police Battalion and with the 382nd Station Hospital.  He attained the rank of Sergeant and served in Okinawa and Korea.
He was a graduate of Pennsylvania State University, where he attained a B.A. degree in Journalism.  He was a member of Phi Kappa Tau Fraternity, Alpha Delta Sigma Advertising Fraternity, and the Penn State golf team.
An avid golfer, he won the Allentown City Championship, the Allentown Municipal Golf Championship and the Wedgewood Club Championship.  He was a former member of Moselem Springs Golf Club.  His other hobbies were travel, walking, oil painting and iconography.
Survivors:  He is survived by his sister-in-law, Margaret Kalandiak, niece Paula Kalandiak and her children Milo Christopher and Duncan Michael of Playa del Rey, California, and by his nephew, Dr. Steven Kalandiak, wife Teruca Bermudez, and their children Alexa Sofia and Paul Tomas of Coral Gables, Florida, and many friends. He is predeceased by his brother, Michael.
Services:  Trisagion Services on Monday November 20, 2017 at 11 AM in St. Nicholas Greek Orthodox Cathedral, 1607 West Union Blvd. Bethlehem, PA 18018. Funeral arrangements are by the John F. Herron Funeral Home, Bethlehem.
Contributions:  Senior Citizens of St. Nicholas Greek Orthodox Cathedral.