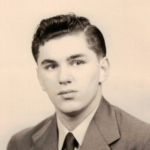 Rudolph Otto Plessor, 85 of Allentown passed away on November 19, 2016.  Rudolph was the husband of Garnet C. (Crandell) Plessor for 62 years. He was born in Allentown and was the son of the late Rudolph H. and Ester (Morgan) Plessor.  Rudolph graduated from Allen High School in 1950.
Rudolph worked for Mack Trucks from 1957-1990 and was a Design Engineer for the FDM version of the Front Discharge Mixer.
Survivors:  His wife Garnet Plessor, son Randy C. Plessor and his wife Cynthia of Norristown, grandson Randy T. Plessor, step-sister Joyce Nonnemacher. He was predeceased by a brother Clayton Christman and a sister Betty Fillman.
Service:  Funeral Service on Saturday, November 26, 2016 at 10:30 AM at the Sell-Herron Funeral Home, 1145 Lehigh St., Allentown, PA. Calling from 9:30AM- 10:30AM.  Burial will follow in Cedar Hill Memorial Park, Allentown.
Contributions:  To the American Heart Association c/o the Funeral Home.