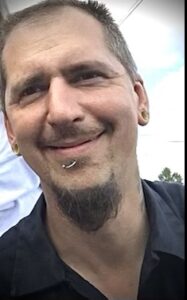 Scott C. Bitting, 44 of Allentown passed away on July 17, 2022, from injuries sustained in a motorcycle accident.
Born in Allentown, he was the son of Linda L. (Kroboth) Moyer and the late Marvin Bitting.
Scott was a talented mechanic of cars, boats, motorcycles, and many other vehicles, as well as electronics. He was a volunteer for Han-Le-Co in the 90s and would lend a hand for anything anyone needed him for. He was an extremely kind and free soul that loved people of all ages. His sense of humor and ability to make people laugh were evident as he strived to make others happy every day. He will be missed dearly by his family, many friends and coworkers.
Scott is survived by his mother, son Damien S. Bitting, brother Bruce F. Moyer Jr., Sisters Cara L. Eyer and Stephanie R. Moyer, nieces Alicia D. Kozak and Brittany L. Kozak, nephew Elijah M. Davis, and great nephew Benjamin W. Zambrana.
A Time of Remembrance: Thursday July 21, 2022 from 6PM-8PM in the Sell-Herron Funeral Home  1145 Lehigh Street, Allentown PA 18103. www.Herronfuneralhomes.com
Contributions may be made directly to the funeral home.