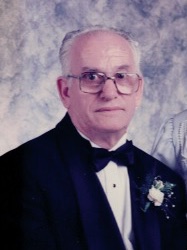 Stavros Sfaelos, 89 of Bethlehem passed away on December 20, 2018 surrounded by his loving family.  He was the husband of the late Koula (Liadis) Sfaelos for 58 years until she passed away on September 1, 2018.
Stavros was born in Patras, Greece on November 18, 1929, son of the late Demetrios H. and Christina (Miniati) Sfaelos.
Stavros, his wife Koula and their daughters came from Greece on November 6,1966 and settled in Bethlehem, Pa.  They were the proud owners of Lehigh Pizza for over 20 years.
He was a member of St. Nicholas Greek Orthodox Cathedral in Bethlehem and a member of the Order of AHEPA, Homer Chapter #65.
Survivors: Three daughters, Christina S. Gentis, wife of Michael, Irene Gouvalis, wife of Demetrios and Mary Lioudis, wife of George, all of Bethlehem; 7 grandchildren, Maria Garcia, wife of Joel, Evan Gentis, husband of Samantha, Koula Paxinos, wife of Yanni, Lucas Gouvalis, Eleni Lioudis, Vicki Gouvalis and Stavroula Lioudis; 2 great-grandsons Mihali Garcia and Michael Gentis.  Predeceased by brothers Haralambros, Constantinos and Nicholas and sister Amalia (Sfaelos) Gounda.
AHEPA SERVICE: There will be an AHEPA Service at 8:30AM on Wednesday December 26, 2018 at the John F. Herron Funeral Home 458 Center At Market Street in Bethlehem.
FUNERAL SERVICE AND VIEWING:  There will a viewing on Wednesday December 26th from 10AM to 11AM followed by the Funeral Service at 11AM in St. Nicholas Greek Orthodox Cathedral 1607 West Union Blvd. in Bethlehem.  Burial to follow in Cedar Hill Memorial Park Cemetery Allentown.
Contributions:  To the Cathedral or Holy Protection Monastery.