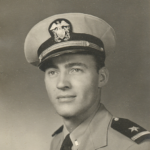 Vincent Ignatius McGuire, age 92, passed away on 8/12/2017 in Bethlehem, PA. He was the youngest of 7 children born in 1925 on the Lower East Side of New York City to immigrant parents, Philip and Anne, of County Cavan, Ireland. He graduated from John Adams HS (Ozone Park) in 1943 and then immediately volunteered for the US Navy.
A member of "the greatest generation", he earned two campaign stars in the Pacific in 1945 while serving as an Aviation Ordnanceman 2nd Class (AOM2c) aboard a Martin PBM Mariner in Rescue Squadron 3 (VH-3). He earned the (Combat) Aircrew Insignia with 3 stars. He was also awarded an Air Medal for his part in the rescue of 18 aircrew from attack planes downed off the coast of Japan. He did not talk about his war experience, only revealing some details very late in his life to explain his aversion to flying.
After his release from active service in 1946, he earned a BA in Business from Mount St. Mary's University under the GI Bill. He was then commissioned an officer in the US Navy Reserve, serving out of the NY Naval Air Station at Floyd Bennett Field, eventually retiring as a LCDR.
He joined the NYPD in 1951 and after three years joined the FDNY. He retired as a Lieutenant in the FDNY after 35 years, having worked at Engine 13 in the then-called "Hell's Hundred Acres" area of Lower Manhattan and later at Headquarters. He was on-duty with the first-due engine company at the tragic Wooster Street Collapse in 1958.
He also earned a B.S. in Nursing from Hunter College of CUNY in the 1970's.
He is predeceased by his wife of 59 years, Kathleen (nee McVicker). Together they raised 8 sons in the Travis section of Staten Island. He was a parishioner at Our Lady of Mt Carmel-St Benedicta church, where he served as a lector of the readings. All of his boys attended its elementary school. His primary concerns as a father were to "raise men" and to demand academic achievement.
He spent his retirement years in Fort Payne, Alabama. He was an active member there of Our Lady of the Valley Catholic Church, serving again as a lector. He was also active in the local Knights of Columbus chapter. He remained physically active and independent all his life. He enjoyed good health almost to the very end before being diagnosed with a late stage cancer one week prior to his death.
He is survived by five sons (Vincent, Sean, Thomas, James, and Timothy), three daughter-in-laws (Anna, Rook, and Erin), nine grandchildren (Michael, Kaitlin, Joseph, Daniel, Kieran, Kathleen, Kiera, Brendan, and Sean), one grand-daughter-in-law (Bridget), and two great grandchildren (Jamie and Cianan).
He will be interred at Arlington National Cemetery alongside his wife Kathleen.