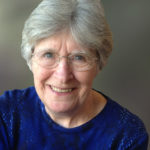 Virginia S. Daddona, 79, of Allentown died on Sunday, June 19, 2016 in the Inpatient Hospice Unit at Lehigh Valley Hospital in Allentown.
Born in Hellertown, she was the daughter of the late Maybelle (Bruch) and Sam Siegel.
Virginia graduated from Nazareth High School and then from Allentown School of Nursing. She retired from Lehigh Valley Hospital in 1999, where she spent many years helping others as an RN and Nurse Anesthetist.
She attended Bethany Wesleyan Church in Cherryville.
She was a loving and caring mother, grandmother and great-grandmother. Her passion for nature, reading, and baking was lovingly shared with her family.
Survivors: Virginia will be lovingly remembered by her brother Harold Siegel and his wife Jane; sons David Mooney and wife Kim, Anthony L. Daddona III and wife Caroline, daughter Julia, wife of Peter Dectis; grandchildren Kyle Mooney, Korey Mooney, David Mooney, Jennifer Starwalt, Bethann Daddona, Anthony L. Daddona IV, Alexa Dectis, Nicole Dectis; 4 great-grandchildren and many nieces and nephews.
Services: There will be a viewing on Wednesday June 22, 2016 from 10AM to 11 AM followed by a Celebration of Life Service at 11 AM in the Sell-Herron Funeral Home 1145 Lehigh Street Allentown.
Contributions:  Alzheimer's Association Delaware Valley Chapter
399 Market Street, Suite 102 Philadelphia, PA 19106